WOW – Williamstown GVSS # 9
Take the challenge!
Be part of a world-class open water swimming event in Williamstown, Victoria, Australia. 
Join the superstars of swimming at the WOW Challenge and Victorian Open Water Championships this December.
This event attracts elite open water swimmers from all over Victoria, Australia, and the world. Be a part of it.
We invite swimmers of all ages and abilities to join us in a world-class event.
In 2019, the events on offer are: 
750m WOW Junior Chase the Champs – $25 @ 9.20am
WOW Multiclass Challenge 750m – $25 @ 8.30am
1.2km WOW Challenge – $55 @ 10.00am
2.5km WOW Challenge – $55 @ 11.00am
5km WOW Challenge – $65 @ 8.00am
10km WOW  Challenge – $80 @ 8.00am
5km Victorian Open Water Championships**
7.5km Victorian Open Water Championships**
10km Victorian Open Water Championships**
Please contact Cousins Tours and Travel on info@cousinstt.com or 03 9827 2999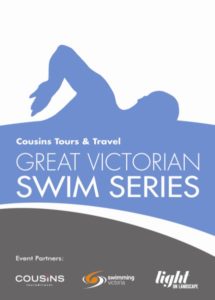 Related Events